TIME-SERT
Posted: 27 June 2016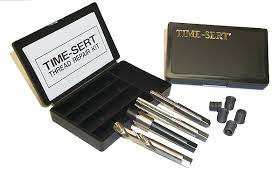 Time-Sert kits have been around for a while now and for good reason,as they have many excellent benefits. They are quick and easy to install, can withstand high temperatures without damage or deforming, can be installed in areas of limited space and clearance due to there thin construction, are self locking and have an actual locking feature which will prevent them from coming out when the bolt is removed, have no prongs or tangs to remove once fitted and  have a flange which will give them a positive placement for accurate specific depths which insures that the insert does not wind down into the hole.
The process of installing a Time-Sert insert is very straight forward-
 1; Drill out the damaged hole with the drill provided (which can also be used to remove the insert if not needed)
2; Counter bore the hole to the full depth permitted by the tool
3; Use Time-sert tap to re-tap hole
4; Insert the time-Sert insert using the driver tool supplied and you are now ready to screw in your bolt, its that easy!
The inserts can be used in a wide variety of materials from aluminum to stainless steal and even plastics. We stock a full range of kits in common thread forms and loose components that can all be purchased individually. so if you have any questions or quires about these or anything else please do not hesitate to contact us as we pride ourselves in providing Honest, helpful advice "whether you buy from us or not".
---
Select An Archive
January 2017
December 2016
October 2016
June 2016
May 2016
March 2016
January 2016
December 2015
November 2015
October 2015
September 2015
July 2015
June 2015
May 2015
April 2015
March 2015
January 2015
December 2014
November 2014
October 2014
September 2014