THREAD PITCH GAUGE
Posted: 11 January 2017

Thread pitch gauge, or also known as screw pitch gauge is used as a reference tool to discover the pitch of a thread that is on a screw/bolt or in a tapped hole.It allows you to quickly categorize any thread by shape and pitch, saving time in that it removes the need for you to measure and calculate the thread pitch of the item. They are a handy tool that we feel every workshop should have in their collection. They can be found in both metric and imperial, we happen to supply a thread pitch gauge that covers all of Metric, UNC, UNF, BSW, BSF, BSP and the rare BSC 26tpi. Try to avoid the cheaper items as this could lead to wrong measurements being taken and then armed with false information a lot of damage could be made. They are very straightforward to use, simply match the threads on any screw or bolt to the threaded edge of the a leaf, if the threads align perfectly you have identified the thread pitch correctly as shown in the diagram below.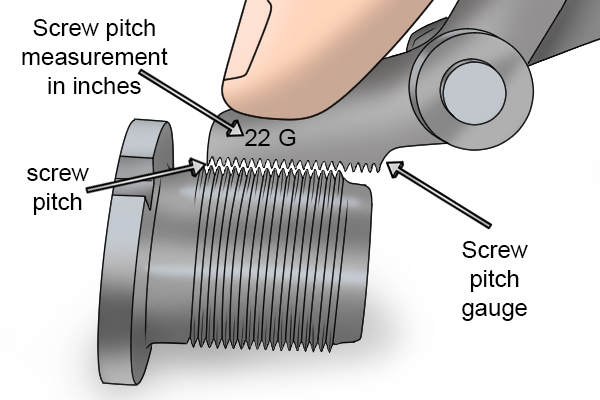 ---
MERRY CHRISTMAS
Posted: 15 December 2016

We would like to take this opportunity to thank all of our customers for their great support over the past 12 months. Hopefully our aim's have been met and we have helped you with any of your threading issues even if it was just our "Honest, helpful advice" you needed, as we consider ourselves the forth emergency service at times! Its been a great year for us, introducing our British manufactured Carbon Steel range of taps and dies and becoming a supplier of Time-Cert Repair Kits and accessories. We will always strive to add that personnal touch and provide a friendly service as every single customer is important to us and with 2017 fast approaching we would like to wish you all a very Merry Christmas and a prosperous new year, the Uni-Thread Team.
---
OCTOBER 2016 CLASSIC MOTORCYCLE MECHANICS SHOW,STAFFORDSHIRE
Posted: 4 October 2016

Its that time of year again for the October addition of the famous Classic Motorcycle Mechanics Show. Stars from the iconic motorcycle documentary On Any Sunday, former racers Dave Aldana, Don Emde, Mert Lawwill and Gene Romero will be guests of honor at this years extravaganza. Visitors will also have the opportunity to get up and close to Barry Sheene's 1976 and 1977 world championship winning bikes.There will also be of course a huge display of bikes, both private and club exhibits showing, as enthusiasts come together to celebrate the emerging classics from the 1960's, 70's, 80's,and even 90's! Hundreds of traders and dealers will be in attendance  giving show goers the chance to stock up on parts, spares, accessories, memorabilia and much more. Thats where we come in, we will be in the main hall stand number M34 (along from the Bingley Arms Pub!!) helping people out with all of their threading issues with our thread repair kits, taps, dies, drill sets, inserts and our free of charge advice! So as usual if you know your going and need anything why not give us a call and we will make sure we bring it along, and if your not going why not? It really is the place to be if you have an interest in all that is two wheels. Hope to see you all there.
---
TIME-SERT
Posted: 27 June 2016
Time-Sert kits have been around for a while now and for good reason,as they have many excellent benefits. They are quick and easy to install, can withstand high temperatures without damage or deforming, can be installed in areas of limited space and clearance due to there thin construction, are self locking and have an actual locking feature which will prevent them from coming out when the bolt is removed, have no prongs or tangs to remove once fitted and  have a flange which will give them a positive placement for accurate specific depths which insures that the insert does not wind down into the hole.
The process of installing a Time-Sert insert is very straight forward-
 1; Drill out the damaged hole with the drill provided (which can also be used to remove the insert if not needed)
2; Counter bore the hole to the full depth permitted by the tool
3; Use Time-sert tap to re-tap hole
4; Insert the time-Sert insert using the driver tool supplied and you are now ready to screw in your bolt, its that easy!
The inserts can be used in a wide variety of materials from aluminum to stainless steal and even plastics. We stock a full range of kits in common thread forms and loose components that can all be purchased individually. so if you have any questions or quires about these or anything else please do not hesitate to contact us as we pride ourselves in providing Honest, helpful advice "whether you buy from us or not".
---
SOTHERN CLASSIC MOTORCYCLE SHOW & JUMBLE, KEMPTON
Posted: 10 May 2016

The Kempton classic bike show and autojumble is on this May Saturday 21st so come along and if your not, why not, because its an amazing place to find what you may need for you biking needs or just come down to see the bikes on show. The show hall will have over 30 club stands showing their classic bikes, as well as Ace cafe London will be there showing some of their bikes. We will be found in our usual spot in the main hall, under the main grand stand with our thread repair kits, helicoil type inserts (1.5D only,so please call if you need a different length), uk manufactured taps & dies, high quality drill sets, thread restoring files,thread pitch gauges, feeler gauges and of course our honest, helpful advice 'whether you buy from us or not'  which as always is free of charge!!
---
Select An Archive
January 2017
December 2016
October 2016
June 2016
May 2016
March 2016
January 2016
December 2015
November 2015
October 2015
September 2015
July 2015
June 2015
May 2015
April 2015
March 2015
January 2015
December 2014
November 2014
October 2014
September 2014